Wood Fence Gates With Heavy-Duty Steel Framing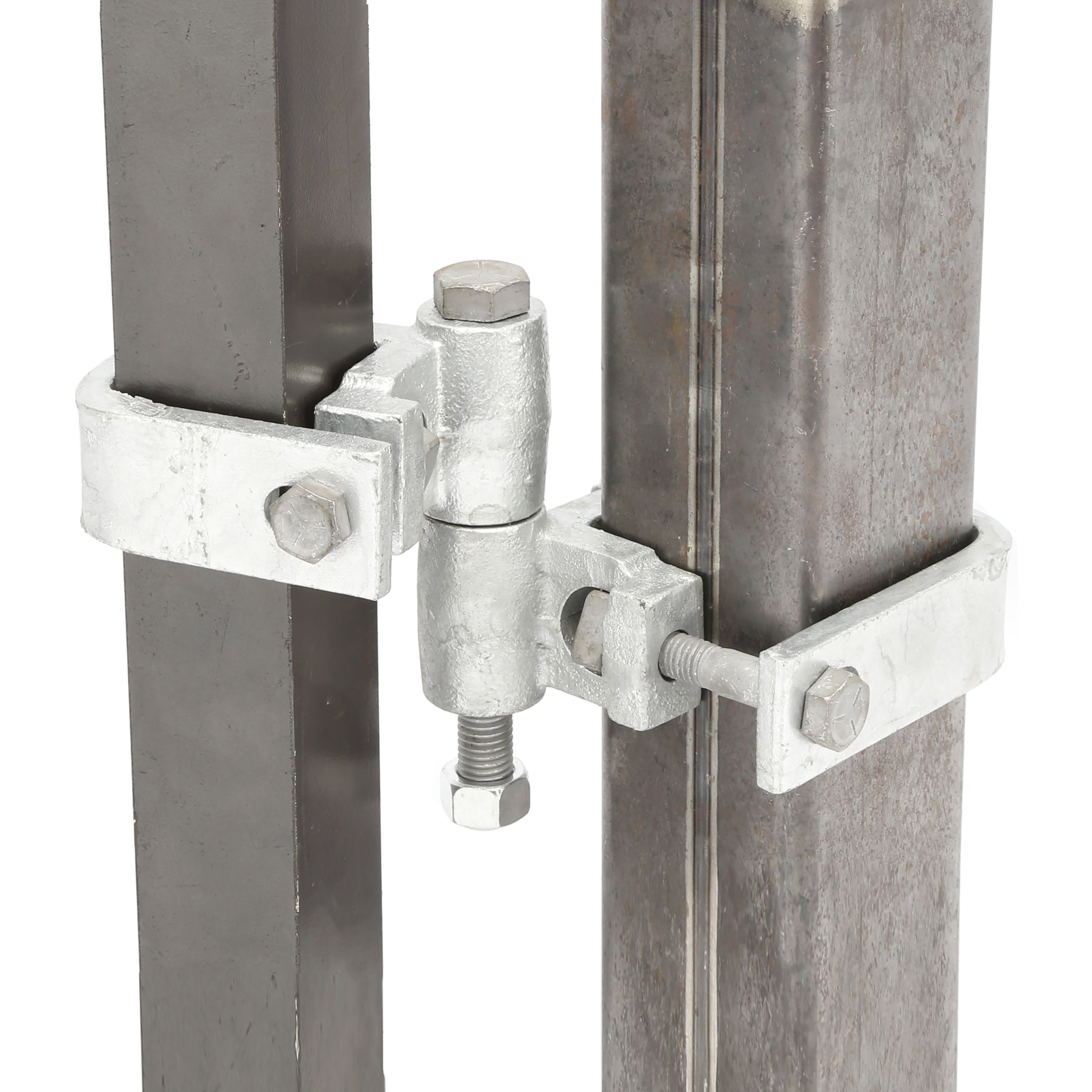 Wood Fence Gates strengthened with installed heavy-duty square steel frames are incredibly durable and long-lasting. There are many different versions of wood gates with steel frames, whether it's a beautiful residential double wood gate, a simple wood gate for commercial dumpster access, or an industrial grade wood gate, steel framing reinforces wood gates and prevents sagging, distortion, and damage. They add support and strength where other materials simply cannot.
Why Use Steel Framing On A Wood Gate?
Wood Gates with wood framing is ideal for gates less than 44" wide. Gates larger than 44" inches wide, as well as double drive gates, become too heavy for the wood frame installed with lag screws and can cause splitting, sagging, or actual collapse of the gate system. Depending on the way the wood fence gate is installed, square steel gate frames can be mounted to galvanized square tubing, round posts, or large wood posts over 6" Sq. in size. The most important factors in reinforcing a wood gate are the material and size of the post, the weight of the gate, and the gate frame size.
Installing A Steel Frame To A Wood Gate
Single Metal Gate Frames on wood fence gates typically use 2" Sq. Galvanized Tubing that gets welded at the connection points. Gates that are 5' high or more should have a horizontal brace, while larger gates or double gates over 12' wide require a vertical brace to support the weight and pressure of the gate. Securing the gate frame to the square post requires heavy-duty square fittings and square-to-square hinges to connect the square post to the square metal gate frame, allowing it to reliably swing.
Square Tubing For Square Posts And Framing
Galvanized Square Tubing is a great choice for reinforcing a wood fence gate with a metal gate frame to a stable, cemented post. Using 3" Sq. (3" x 3") Or 4" Sq. (4" x 4") Metal Square Tubing for the post is recommended for a long-lasting gate system. Secure the square tubing in the ground with poured concrete and shop square-to-square gate hinges to ensure the correct hinge will properly fit around the steel tubing of the post as well as the steel tubing of the gate frame.
Example Hinge Size For 3" Sq. Post (Square To Square Hinge): 180 Degree Heavy Duty 2" Square Gate Frame x 3" Square Post - Square To Square 180° Hinge
Example Hinge Size For 4" Sq. Post (Square To Square Hinge): 180 Degree Heavy Duty 2" Square Gate Frame x 4" Square Post - Square To Square 180° Hinge
Using The Right Hinges
Connecting the gate frame to a post for a 180-degree swing can be achieved using Heavy-Duty Square Gate Frame And Post Hinges. Designed to attach to the square gate frame and square post, the hinge fits around the post and allows the gate to swing 180 degrees from the closed position, making it versatile for both commercial and residential wood gates. These hinges can be installed on metal gates, steel framed wood gates, or even steel frames vinyl gates in order to strengthen the gate for high-traffic use and prevent sagging from the heavyweight. With typical installations, only two hinges are needed to install a gate, however, the taller the wood gate is, the more hinges will be required for distributing pressure.