C-Posts & Square Posts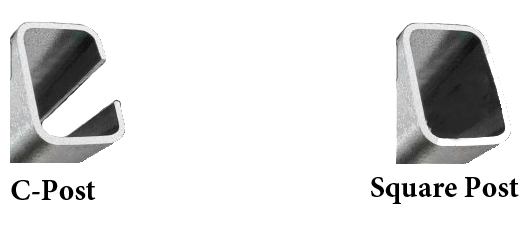 C-Posts and square posts have a lot in common, but they also each have unique qualities that make them a great fit for certain types of applications. The good news is that a C-post and a square post with the same dimensions will fit the same applications. Above is a diagram illustrating the difference between the two and below, you'll find an explanation of each type of post and what types of applications they fit best. If you have additional questions on which type of post is ideal for your project or how to find the post cap, line top, drop fork or clamp to fit a post, give us a call at (888) 378-1149 and we'd love to help you get your project on the right track.
C-Posts
The open channel of a C-Post allows air to circulate better, helping to avoid condensation buildup inside the post. They are also easier to drive than most square posts - without requiring the use of concrete - and also self-anchor better. This superior anchoring and holding power makes them a great fit for traffic applications and other applications with demanding conditions. When compared to standard square posts, C-posts have a shape that facilitates superior bending strength and flexibility.
Square Posts
Square posts are fully welded all the way around, meaning they offer greater strength and stability. Without the opening that a C-post has, they have a larger surface area for affixing fencing using screws or bolts. They work well with most residential and commercial fencing applications and are easy to install. A square post, when used with a post cap, can have a tight, sealed barrier to keep moisture and other elements out and protect the interior from rust and deterioration.