3 1/2" x 5 1/2" Flat Galvanized Steel Square Post Cap for Wood 4x6 (Fits Actual 3 1/2" x 5 1/2" OD Wood)
Details
3 1/2" x 5 1/2" Flat Galvanized Steel Square Post Cap for Wood 4x6 (Fits Actual 3 1/2" x 5 1/2" OD Wood)
The Flat Square Post Cap fits a 4" x 6" (nominal size) wood post externally. Easy to install, simply slide the cap onto the top of the post and secure with glue for extra hold. This rust resistant, UV resistant heavy duty steel post cap will help prevent the wood post from inevitable damage from the elements. Not only will this post cap protect the wood post, it will also add a unique design to an otherwise plain post.
Fits 4 x 6 Nominal Wood Post (Actual 3 1/2" x 5 1/2" OD).
Features:
• Color: Silver
• Dimensions: 3 1/2" x 5 1/2"
• Fits Post Size: 4" x 6" Nominal (Actual Post Size: 3 1/2" x 5 1/2" OD)
• Material: Galvanaized Pressed Steel
• Easy To Install To The Exterior Of The Post
• Protects Wood Post From Splitting, Rotting, And UV Damage
**We Strongly Recommended Measuring Your Wood Posts Before Ordering. 4" x 6" Pressure Treated Wood Posts Will Usually Measure 3.65" x 3.65". In some cases the wood post may need to be shaved down in order to make the cap fit.**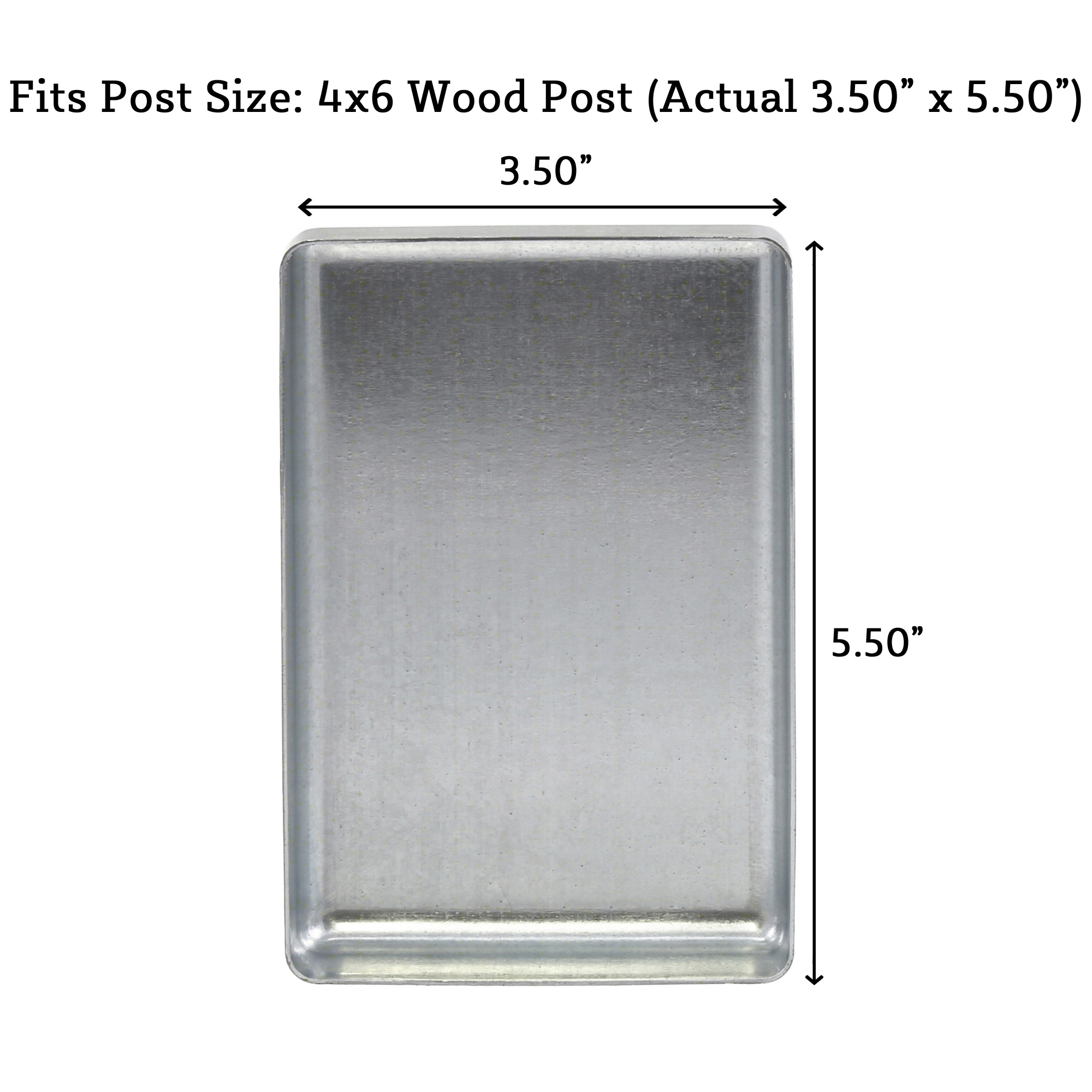 Disclaimer: These Post Caps are made for the exact size as advertised. Wood posts tend to vary slightly due to a variety of conditions including temperature changes and cutting imperfections. For installation in extremely cold temperatures, we highly recommend using glue to secure the post cap to the post. As temperatures rise, the post cap will stay firmly in place while the wood swells back to normal size. If the post cap does not fit properly, remeasure the post to ensure that it was cut accurately, even 1/32 of inch can cause an issue. Consult your local lumber supplier regarding which glue will provide the best results your post cap installation.
| | |
| --- | --- |
| SKU | RFC-312-512 |
| Product Type | Post Cap |
| Finish | Galvanized |
| Post Size | 3 1/2" x 5 1/2" (Wood 4x6) |
| Coating | Galvanized |
| Material | Pressed Steel |
| Style | Flat |
| Fits | External |
You may also be interested in the following product(s)